Boat Tours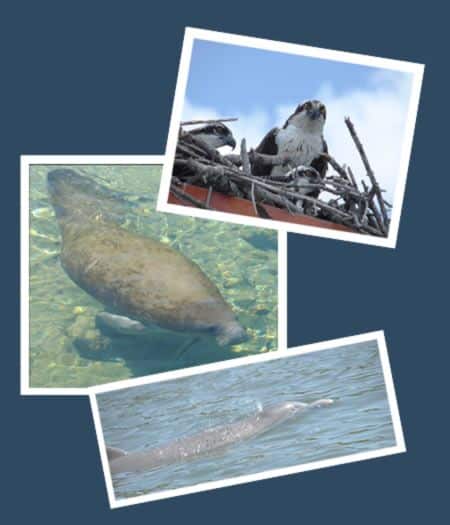 Boat Tours of the Indian River Lagoon (IRL) are conducted seasonal Monday thru Sunday from the Fort Pierce City Marina located in Downtown Fort Pierce, FL. To purchase tickets, visit our tickets page for ticket purchasing information and boat tour coupons.
Special Events Tours
In addition to the regular tours of the Indian River Lagoon, we can also arrange customized tours for groups on an "as available" basis. We have provided such trips for:
Church groups
Country clubs
The Audubon Society
Boy Scouts
Girl Scouts
Schools and many other groups
During the 90 minute boat cruise, visitors may see many of the 2765 animals and 1350 plants that live in the Indian River Lagoon. This includes 685 species of fish and 310 species of birds, with Captain Barry "Chop" Legé or one of his other captains, along with their knowledgeable mates leading the way.
Start at Downtown Fort Pierce
Your tour starts at the Fort Pierce Marina and continues out to the beautiful Indian River lagoon, a salt water river that extends from Ponce de León Inlet in Volusia County, Florida, to Jupiter Inlet in Palm Beach County, Florida.
Dolphins
The Indian River area around the Fort Pierce inlet is home to a pod of wild Florida Dolphins that live here year round. Capt. Chop knows where this pod likes to hang out and he will put in the area where they love to play. Be sure to bring a camera with you because the dolphins will put on a show just for enjoyment. Sometimes they will come close to the boat and say hello.
While on the trip Capt. Chop helps keep track of certain dolphins, they have names for them. He reports their where abouts to Harbor Branch Oceanographic Institute located here at Fort Pierce. Here they study the health and wellbeing of all sea mammals, fish and birds in our area. The importance of constantly checking the water quality, sea grasses and algae growth helps keep the Indian River Lagoon flourish for years to come for wildlife and people like you to enjoy the river.
Birds fish, and reptiles
While on your trip you may run into a whole array of seabirds. The wading birds you may encounter are the herons, egrets, night herons, ibis, spoonbill and wood stork. Plus diving birds like osprey, cormorants, pelicans and sea gulls just to name a few. Look for them one the small islands that you will see up and down the Indian River call Spoil Islands. They are what is left after they dredged the Indian River to make it deeper for boats to travel. Once in awhile you my spot a sea turtle or a spotted ray break the surface. Most of the fish that you will breaking the surface is mullet. If you are lucky enough to see a large disturbance in the water it is probably a school of Jack Crevalle chasing mullet or other baitfish.
Manatees
Manatees are most generally a seasonal spotting. The winter months bring in the most Manatees to the Fort Pierce Marina. If they are in the marina Capt. Chop will know. He will take you where they are first for a close up to see our famous Sea Cows AKA Manatees. At times they will gather in some of the other creeks tributaries and coves, of the Indian River Lagoon. If they are there we will make a special trip to these spots so the guests can get close to the Manatees. They will pop up out of nowhere so have that camera ready.
We hope you enjoy the trip and capture some of the most beautiful and preserved parts of Indian River lagoon.